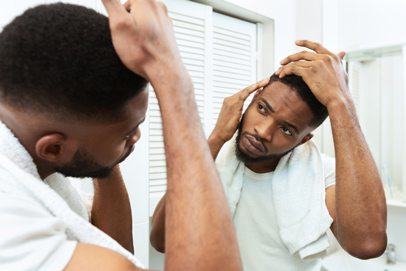 Although hair loss is extremely common and can impact your self confidence, and take a toll on your self perception. You are not alone - two thirds of all men experience hair loss by the age of 30.
Understanding the top 10 causes of hair loss is the first step to fighting it.
Genetics: Your genes play a significant role in hair loss. If a family member suffers from hair loss, it is likely that you could too. Although we can't alter our genes, we can combat genetic hair loss with proper hair care and various treatments.
Age: As we get older, our hair becomes naturally thinner and is more likely to shed. While we can't reverse time, proper hair care throughout your life should help with hair thinning due to age.
Hormonal Imbalances: Hormones play a large role in our body, even when it comes to our hair! If your hormones are imbalanced due to pregnancy, menopause, or a hormonal disorder, this can lead to hair loss.
Stress: Did you know that excessive stress can contribute to hair shedding? If you start to experience stress-induced hair loss, make sure to practice stress-reducing techniques such as meditation, exercise, or mindful breathing.
Poor Nutrition: Your hair needs certain vitamins and minerals such as iron, vitamin D, and zinc to stay healthy. So when you aren't eating a nutritious diet, your hair can fall victim.
Autoimmune Diseases: Certain autoimmune diseases can target your hair contributing to hair loss including alopecia areata and lupus. Alopecia areata shows up as hairless patches on the body, scalp, or face. Lupus can contribute to hair thinning or hair loss due to skin rashes.
Excessive Hair Care: Whether you wear tight hairstyles, use heat when styling, or apply chemical hair treatments, excessive hair care can be extremely damaging to one's hair. These methods of hairstyling can destroy the hair follicle so the hair cannot regrow. So make sure to be careful and don't overdo it when styling your hair.
Medication: Hair loss is an unfortunate side effect of lots of medications including certain cholesterol, blood pressure, and acne medications. Not everyone taking these medications experience hair loss as a side effect, but it is important to take note.
Infections: Did you know that your scalp can get infected? Certain fungi, bacteria, or yeast can infect your scalp and invade your hair follicles causing hair loss. If you notice pus, redness, or scaling on your scalp this could be a sign of infection, so see your dermatologist immediately.
Cancer Treatment: Certain cancer treatments such as radiation or chemotherapy act to target fast-growing cells in your body to eliminate cancerous cells, but hair cells also fall under that category. Fortunately, hair loss due to cancer treatment is generally temporary and you can expect regrowth within a few months.
Hair loss is a complex issue that can be difficult to navigate. Understanding the root cause of your hair loss can help you or a loved one prevent or treat your condition.
The Pure Hair Restoration Center offers the best treatments for hair thinning, hair loss, including beard, eyebrow and mustache thinning. Beneficial procedures include Follicular Unit Extraction, Follicular Unit Transplant, (PRP) Platelet Rich Plasma, Laser Cap Therapy, and nutritional supplements. Let us help you regain your confidence and your hair, all in one day!
AUTHOR: Dr. Nader Ronaghi, founder of Pure Hair Restoration Center, is a leading physician in the field of hair transplantation in Newport Beach, California with over a decade of experience. Dr. Ronaghi uses biologics with advanced medical technology to restore hair, helping his patients improve their appearance and self-esteem.