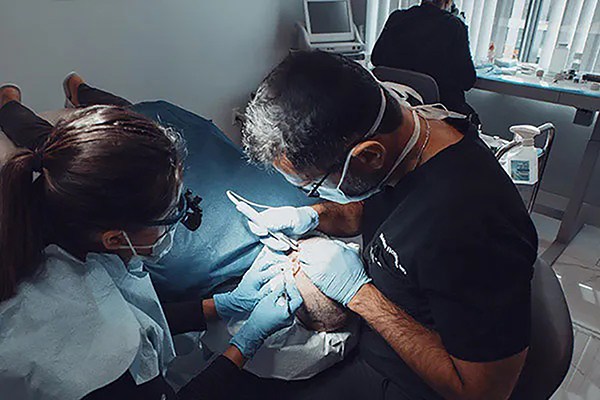 Dr. Ronaghi offers the most advanced and innovative hair loss treatments for both men and women, achieving the most natural-looking results.
We have more than three decades of experience in Newport Beach.
Achieving a natural look from your transplant depends on many factors, such as anterior hairline design, good density, the direction of implantation, use of appropriate follicular units in each location. At Pure Hair Restoration Center, all the above criteria are considered before placing a hair follicle.
Regarding scarring in the donor area, FUE leaves many punctiform, usually less than one millimeter in diameter. When correctly done, one can hardly see them, even with a short haircut.
If you are looking for a Hair Transplant, contact us now. We are located in Newport Beach, California.
On the day of your FUE procedure, the surgeon will plan out the hairline, identify and design the distribution of follicles to be transplanted, and map out the area that needs to be restored.
Areas of the scalp will be identified and labeled with a surgical marker. This is to identify the recipient area, transition zone, donor area, and affected alopecia area. The way you style your hair will also be taken into consideration before identifying these areas.
Once the areas are marked, the hair will be shaved to a desirable length for the procedure. If there are many white hairs, a dark dye will be applied to help make the hair shaft more visible for extraction.
Preoperative medication is administered before the procedure begins. The patient will then be placed in position and an antiseptic solution is applied to the scalp. Local anesthesia will be injected into the surgical area, and follicular unit extraction from the donor site will begin.
The FUE procedure can last anywhere between 1 to 4 hours. This will highly depend on the number of grafts that are being taken. Once the extraction phase is complete, there will be a lunch break.
This will allow the patient, as well as the staff, to take a break and relax. The second phase will begin after lunch.
Benefits FUE hair transplants provide.
Virtually no scarring
Less pain
Better results with healthier hair
Less risk of infection
In-Office Procedure – No general anesthesia is required
Natural Appearance
Fastest recovery possible